SIXTH 'RIO DE LA PLATA' WORKSHOP ON LASER DYNAMICS AND NONLINEAR PHOTONICS
Montevideo, Uruguay, December 9-12, 2013
<![if !vml]>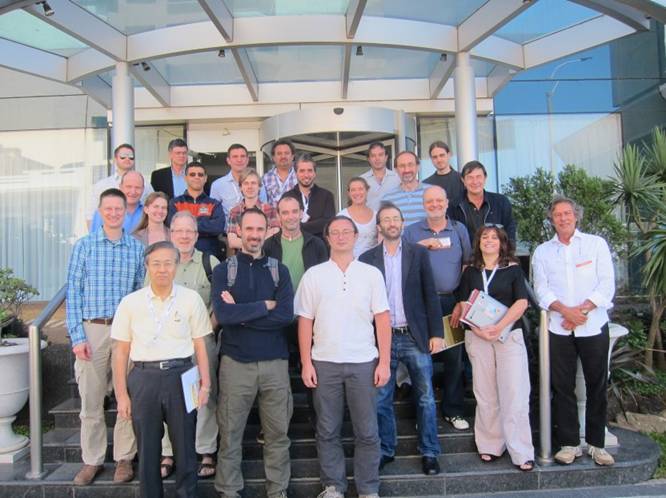 <![endif]>
Final program here (updated: 7/12/2013)
Workshop proceedings in IEEExplore
Proceedings: DEADLINE EXTENDED TO JANUARY 9, 2014
<![if !vml]>

<![endif]>
Arrival information
There are frequent buses from the airport to the main Bus Station in Montevideo (Tres Cruces, about 45 minutes from the airport), from where you can take a taxi to the hotel. The hotel is located at Rambla. Mahatma Gandhi in the corner with Parva Domus (map, phone: ++598 2710-2000). A taxi from the airport to the hotel will cost about 60-70 dollars depending on traffic. The hotel provides a service to transfer from and to the airport, at a cost of 50 dollars each trip. To book this transfer, please send an email to Mr. Andres Muttoni at gventas@hotelcaladivolpe.com.uy with your name, arrival day, time, and flight number.
You can change cash at the airport, and you can also change (probably more conveniently) at a Money Exchange in Punta Carretas Shopping Center, located about 200 meters from the hotel.
Organizing co-chairs
Description
Recent advances in nonlinear physics are revolutionizing the field of nanophotonics, which in turn is producing great advances in medicine, biology, communications, etc. This workshop aims at achieving a blend of application-oriented research and the fundamental nonlinear science that supports it, with the goal of a cross-fertilization of ideas. The workshop will provide the participants an opportunity to discuss the latest advances, tendencies and challenges in the field. Participants will be able to interchange ideas in a relaxed environment, which will provide an excellent networking opportunity for developing new collaborations.
Funding Agencies
<![if !vml]>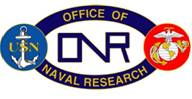 <![endif]> <![if !vml]>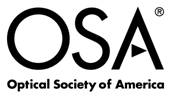 <![endif]>
Technical Sponsor
<![if !vml]>

<![endif]>
Themes
The topics covered by the workshop include:
Lasers: General laser theory; Semiconductor lasers; Microcavity and microdisk lasers; Photonic crystal lasers; Laser design and operation; Dynamical laser instabilities; Noisy laser behavior; Spatial pattern formation; Laser applications; Laser spectroscopy.
Nonlinear optics: Phase conjugation; Beam trapping, self-focusing and defocusing; Self-phase modulation; Optical frequency converters; Optical bistability, multistability, and switching; Dynamics of nonlinear optical systems; Optical instabilities, optical chaos and complexity; Optical spatio–temporal dynamics; solitons; nonlinear guided waves and waveguides.
Optical materials and nanophotonics: Nonlinear optical crystals; Photorefractive and semiconductor materials; Photonic bandgap materials; metamaterials and plasmonics; Nonlinear behavior in nanophotonics.
Related school and workshop in Sao Paulo
A two-week School on Fundamentals and Applications of Nonlinear Dynamics focusing on Photonics applications will be held in Sao Paulo, Brasil, from November 25 to December 5, 2013. The school is funded by the International Centre for Theoretical Physics -South American Institute for Fundamental Research (http://www.ictp-saifr.org/) and is aimed at young PhD students and postdocs. The school will be followed by a one-day workshop in Sao Paulo (Friday December 6). The organizers of the school and workshop are Cristina Masoller, Hilda Cerdeira, Yuri Kivshar.
More information about the courses, application procedure and deadlines can be found at: http://www.ictp-saifr.org/?page_id=3616.
Important Deadlines
Registration and Abstract submission: October 11, 2013
Acceptance: November 1, 2013
Proceedings manuscript submission November 29, 2013
Invited Speakers
Thorsten Ackermann

University of Strathclyde, Scotland

Optomechanical self-organization in cold atomic gases

Uwe Bandelow

Weierstrass Institute (WIAS), Berlin, Germany

Solitons on a background, rogue waves, and classical soliton solutions of the Sasa-Satsuma equation

Sylvain Barbay

LPN-CNRS, Marcoussis, France

Self-pulsing and fast excitable response in micropillar and nano-lasers with saturable absorber

Stephane Barland

Institut Non-Lineaire de Nice, Valbonne, France

Buffering optical data with topological localized structures

Kamel Bencheikh

LPN-CNRS, Marcoussis, France

Quantum theoretical aspects of triple photons states produced by a khi(3) process

Peter Bienstman

Ghent University, Belgium

Towards integrated optical spiking neural networks: delaying spikes on chip

Andrea Bragas

Facultad de Ciencias Exactas y Naturales, Universidad de Buenos Aires, Argentina

Nonlinear emission of polariton cavity modes in ZnO single nanocombs

Marcel Clerc

Universidad de Chile

Harnessing optical vortex lattices in nematic liquid crystals

Cid B. de Araujo

Universidade Federal de Pernambuco, Recife, Brasil

High-order nonlinearities in homogeneous and nanostructured systems

Goery Genty

Tampere University Technology, Tampere, Finland

From nonlinear instabilities to rogue waves in optics

Alejandro Hnilo

Centro de Investigaciones en Láseres y Aplicaciones, Bs As, Argentina

Optical rogue waves in the solid state laser with a saturable absorber

Antonio Hurtado

Essex University, UK

Optical Injection in 1310nm-QD DFB Lasers: analysis and applications

Julien Javaloyes

Palma de Mallorca, Spain

Vectorial temporal solitons with delay in VCSELs

Bernd Krauskopf

The Universtity of Auckland, New Zealand

Mode structure of a semiconductor laser with feedback from two external filters

Kathy Lüdge

Technische Universität Berlin, Germany

Optical instabilities in quantum-dot lasers: what makes them different to quantum-well lasers

Cleber Mendonça

Universidade de Sao Paulo, Brasil

Femtosecond pulses in nonlinear optics: multi-photon absorption and pulse shaping

Junji Ohtsubo

Shizuoka University, Japan

Filament dynamics and synchronization in broad-area semiconductor lasers

Francesco Pedaci

Centre de Biochimie Structurale, Montpellier, France

Excitability in optical torque tweezers

J. R. Rios Leite

Universidade Federal de Pernambuco, Recife, Brazil

Dynamics in a Ring Diode Laser

K. Alan Shore

Bangor University, Wales, U. K.

Ultra-wide frequency bi-stability in VCSELs

Jorge Tredicce

Institut Non-Lineaire de Nice, Valbonne, France

How a crisis produces an extreme event
Proceedings: DEADLINE EXTENDED TO JANUARY 9, 2014
The workshop proceedings will be published as an IEEE Conference Proceeding within the IEEE Conference Publications Program (CPP) and will be included in the IEEE Xplore database. CPP will handle the worldwide post-conference distribution, assuring wide distribution of the conference proceedings by providing abstracting and indexing of all the papers for inclusion in worldwide databases.
Manuscripts should be submitted as IEEE Xplore-compatible PDFs.
Submission to the Conference Proceeding will be open from September 15 to November 29, 2013. Papers should be prepared online using the IEEE PDF eXpress service, and submitted online as IEEE Xplore-compatible PDFs. A minimum of 2 pages is required. Please follow these instructions to submit your manuscript:
1) Access the IEEE PDF eXpress site at http://www.pdf-express.org
2) First time users: create a new account and login using the following Conference ID: 32000XP. Previous users, but logging in the first time for this conference: Enter 32000XP for the Conference ID, your email address, and enter the password you used for your old account; click "Continue"; will receive online and email confirmation of successful account setup.
3) Access Article Templates on the left menu. MS Word and LaTeX templates incorporate the specifications for conference proceedings articles on either a US-letter or an A4 page size.
4) Once the PDF file is generated, compatibility with IEEE Xplore-PDF can be checked by clicking "Submit PDF for Checking". You can also convert files using "Submit Source Files for Conversion".
5) You will receive online and email confirmation of successful upload. If you submitted a PDF for Checking, the email will show if your file passed or failed.
6) Repeat this process until your file passes the PDF Check.
7) When you have an acceptable IEEE Xplore-compatible PDF, approve this final PDF to the conference.
Follow this link for the proceedings of the 5th Workshop.
Location: Montevideo, Uruguay
Venue: Cala di Volpe Boutique hotel (http://www.hotelcaladivolpe.com.uy/english/)
Special prices for the conference participants are 125USD for standard single room and 130USD for standard double room. Prices are per day and include breakfast and taxes.
For reservations please contact the hotel directly by email (reservas@hotelcaladivolpe.com.uy) and indicate that you are a participant of the Rio de la Plata Workshop.
Registration Fees
The registration fee has to be paid cash at the conference registration desk (prices in US dollars). The registration will include the welcome cocktail, the coffee breaks and lunchs during the workshop and the book of abstracts.
Regular participant: U$S 400
Invited speakers: U$S 150
Reduced (students) U$S 100
To Register
Send an email with the following information to cristina.masoller@upc.edu, cristina.masoller@gmail.com
Name:
Institution:
Email:
Position:
Title of Contribution:
Abstract (about 200 words, no equations or figures):
Type of Contribution: Oral or Poster
History of the 'Rio de la Plata' Workshop
The first, second and fifth workshops were held in Colonia del Sacramento, in December 2003, 2005 and 2011; the third workshop was held in Punta del Este (Uruguay) in December 2007, and the fourth workshop, in Piriapolis (Uruguay) in December 2009. The workshop has been sponsored by the Optical Society of America (OSA), the Photonics Society, the Air Force Office of Scientific Research (AFOSR), the Office of Naval Research Global (ONRG), and the Commission on Quantum Electronics of the International Union of Pure and Applied Physics (IUPAP). The proceedings of the 4th Workshop were published in a Topical Issue of the European Physical Journal D; the proceedings of the 5th Workshop were published by IEEE conference publications (http://ieeexplore.ieee.org/xpl/mostRecentIssue.jsp?punumber=6153635).
First Workshop (Colonia del Sacramento, Uruguay 2003) Second Workshop (Colonia del Sacramento, Uruguay 2005)
<![if !vml]>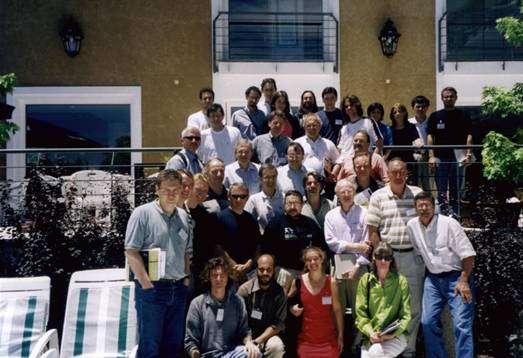 <![endif]> <![if !vml]>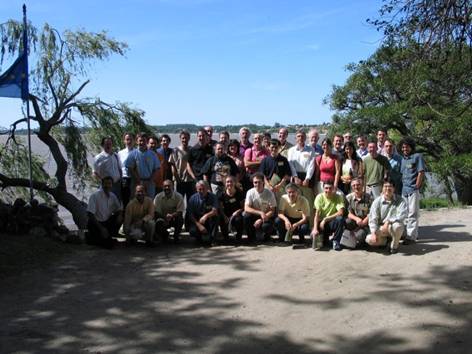 <![endif]>
Third Workshop (Punta del Este, Uruguay 2007) Fourth Workshop (Piriapolis, Uruguay 2009)
<![if !vml]>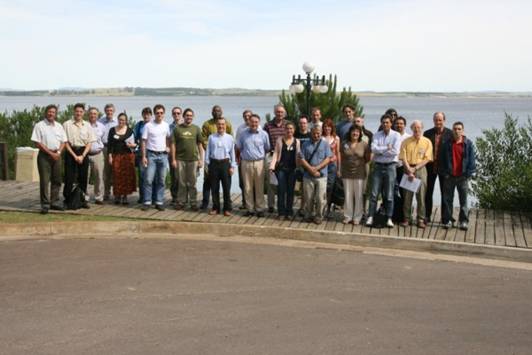 <![endif]> <![if !vml]>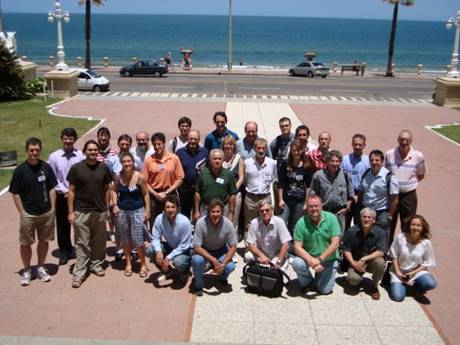 <![endif]>
Fifth Workshop (Colonia del Sacramento, Uruguay 2011)
<![if !vml]>

<![endif]>