2) Resonances
Resonant movements only occur in very precise positions of the solar system because it is in those very specific places where the movement of the asteroid and the planet (usually Jupiter) are exactly synchronized. A little shift from that position the synchrony breaks. In the figure below we reproduce the region of the main asteroid belt including also the principal resonances that operate in the region: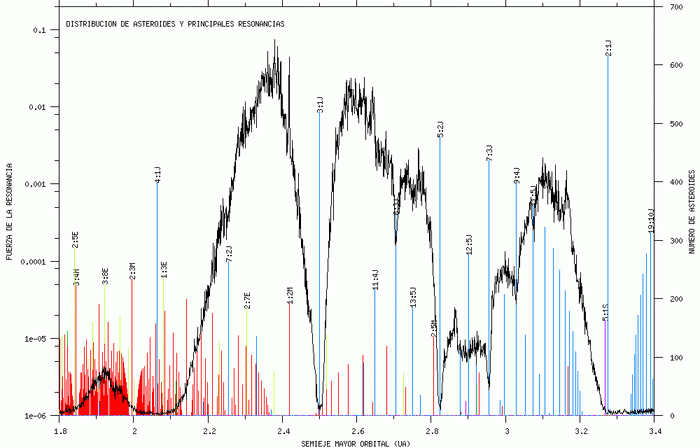 In this figure we indicate not only the resonances with Jupiter but also with all the planets, with different colors. Light blue shows the resonances with Jupiter, Saturn in purple, red and green with Mars and Earth. 2:1J resonance, for example, means that when the asteroid turns 2 revolutions around the Sun, Jupiter has completed exactly 1 revolution. It is well known the destructive effect of the resonances 3:1, 5:2, 7:3, and 2:1 with Jupiter for example.

We also indicate the "strength" associated with each resonance. The higher is the line that represents the strenght, the greater the strength of the resonance. A weak resonance should not affect the movement of the asteroids, but a strong one yes. It is not trivial to make the calculation of the "strengths" of the resonances. For this issue we had to develop a method that we published in the journal Icarus and was well received by readers. As a byproduct of this work, we first find a small group of asteroids in the 1:2 unusual resonance with the Earth (3 asteroids) and 2:5 with Earth (6 asteroids). We also found 4 asteroids in 1:2 resonance with Venus, which are added to the only one already knew. This suggests that the "terrestrial planets" may have some influence on the asteroid's orbits. The details of the method and some of the figures can be found following this link.